All-welded Plate Type Heat Exchanger "XP Series"
XP Series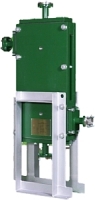 XP Series are all-welded plate type heat exchangers with our unique heat transfer pattern and flow structure.
Our heat exchangers have both the distinctive features of plate type heat exchangers (high performance and compactness) and also similar characteristics to the shell and tube type (high pressure resistance).
The XP series technology has been advanced through the research and development of Ocean Thermal Energy Conversion systems.
XP plate type heat exchangers can be applied to not only power generation but to various industrial uses such as pre-heaters, coolers, condensers, etc.

Characteristics
Low-pressure Loss / High Heat Transfer Efficiency

The XP Series has a unique plate pattern and structure that decreases unnecessary turbulence of flow, which does not relate to heat transfer performance and actualized low-pressure loss. The pressure loss of the XP Series is smaller than general purpose PHEs under the same flow rate conditions, this makes it possible to design for faster flow than general purpose PHEs and still fulfill the specified allowable pressure loss.
Compared to other heat exchangers such as the shell and tube type, the heat transfer performance of the XP Series is very high, allowing for overwhelming compactness.

Space Saving

The XP Series heat exchangers are extremely compact compared with general purpose PHEs and shell and tube type heat exchangers under the same operating conditions, which saves on installation space.


For example, compared to shell and tube type heat exchangers, the heat transfer performance is drastically improved. When applying XP Series you can expect not only space savings but also reductions in construction, plumbing, and maintenance costs. Xenesys has an established history of reducing the number of required units for its customers.

High Pressure Resistance and Maintenance

XP Series are joined by welding heat transfer plates so that there is no leakage of fluid under high-pressure conditions such as 4MPa. The XP Series combines characteristics of PHEs and shell and tube type heat exchangers. As for maintenance, there is no need for large-scale gasket replacement, but only cleaning by chemical solution and high-pressure washing. Workloads such as fieldstripping, plate cleaning, reassembly will be decreased dramatically and parts replacement cost will be almost negligible.

Others

・High Flexibility in Heat Transfer Plates.
Through our unique press technology we can offer eight (8) different plate sizes from small to large in the same heat-transfer pattern.

・Low Pinch Temperature
Compared with tube and shell type heat exchangers, pinch temperature is low. Profitability will improve through the increase in the amount of evaporation and condensation or the increase in the production of chemicals under the same operating conditions.

・Downsizing Pumps
Pressure loss in the heat exchanger will be reduced (by approximately 1/3 compared to general purpose PHEs), so lower power pumps can be utilized.

・ Services for Design and Evaluation
At Xenesys we maintain our own experimental equipment such as boilers, refrigerators, etc, and at the Imari Plant we have performed in-house performance tests for the XP series under various conditions. Utilizing our equipment, we can offer performance confirmation tests and performance evaluation services conducted under conditions simulating your working environment.

Applications
Useable Conditions
 Working Temperature : −30 ~ 300ºC
 Maximum Operating Pressure : 4MPa
 Maximum Attainment pressure : 30~40MPa
Materials
 Titanium(Gr.1&Gr.2) etc
 SUS316L
 SUS304L
Delivery Record
 Steel plant 
  ・Desulfurization process seawater cooler
  ・Condenser for crude light oil refinery process
  ・Raw oil pre-heater for crude light oil refinery process
  ・Power generation process coolant water seawater cooler
  ・Heat recovery for CO2 recovery plant
  ・Seawater cooler for furnace chiller

  Ocean Thermal Energy Conversion apparatus (Kume Island, Okinawa Pref. Japan)
  ・Evaporator and condenser for power generation
  Various plant facilities
  ・Gas cooler (nitrogen mixture gas)
  ・Various coolers (petroleum product, antifreeze, effluent etc)

  Various research institutes
  ・Evaporator and condenser etc for temperature difference power generation

Applications (examples)
 Seawater cooler for steel/oil refinery plant
 Pre-heater for heat recovery system
 Cooler for turbine oil, etc.
 Various heat exchangers for chemical plants
 Evaporator and condenser of power generation system using temperature difference
 Heat exchanger for exhaust gas heat recovery
Quality Control / Test ・Inspection
 In manufacturing and quality control of XP Series heat exchangers, which correspond to pressure vessels, we comply

 with various laws, regulations, and technical standards in addition to our client's needs.
  ・ASME U-Stamp (International)

  ・Electric Business Law (Welding Business Inspection) (Japan)

  ・First class pressure vessel (under review)

  ・Internal Quality Control : ISO9001
  



We can propose the most suitable XP Series to fit our clients' needs and the required conditions of the site. Please click the link below, fill in the design condition parameters of the project/site and send it to use. We will respond as soon as possible.