DTEC (Discharged Thermal Energy Conversion)
DTEC (Discharged Thermal Energy Conversion)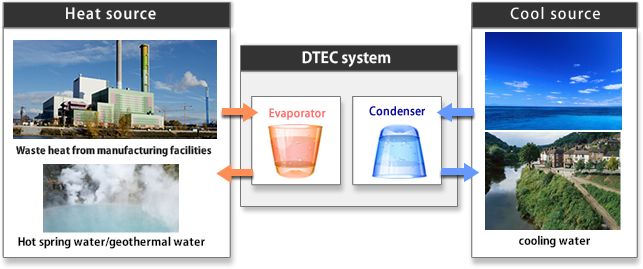 Characteristics of DTEC
Effective Utilization of Low Temperature Waste Heat

DTEC enables electricity production using low temperature waste heat (200℃ or less) from industries such as oil refineries, steel plants, and chemical plants.

Energy-savings and CO2 Emission Reduction

DTEC saves energy and reduces CO2 because the system does not use fossil fuels.

Possible Substitute for Cooling Facilities

The system can be used in substitute of traditional cooling facilities.
Characterisctics of Mini-DTEC
Packaged System for Small-scale Waste Heat
Low Installation and Power Generation Cost

Mini-DTEC is fabricated at our factory to reduce installation cost at the sites.

Simple and Small

We have developed highly efficient and integrated devices to achieve simple and small system.

Container-sized: Easy to Transport and Install
Generation Cost
| Type | Construction cost (※3) | Load factor | Depreciation cost (※4) |
| --- | --- | --- | --- |
| DTEC (MW scale) | Approx. JPY300~400k/kW | 80~95% | JPY2.4~3.2/kWh |
| Photovoltaic | Approx. JPY600k/kW | 12~14% | JPY33~38/kWh |
| Wind | Approx. JPY200k/kW | 15~25% | JPY6.1~10/kWh |
(※3) The construction cost of DTEC plant is referential since it is much affected by the size of waste heat quantity and characteristics.
(※4) Depreciation period:15 years. Interests are not considered for the estimates.

For inquiries or requests for potential power generation calculations of DTEC systems utilizing your heat sources please click the "Parameter Sheet" link below and fill in the relevant cells.
When we receive the Parameter Sheet, we will respond as swiftly as possible.


Mini-OTEC; Plant Simulator for Temperature Difference Power Generation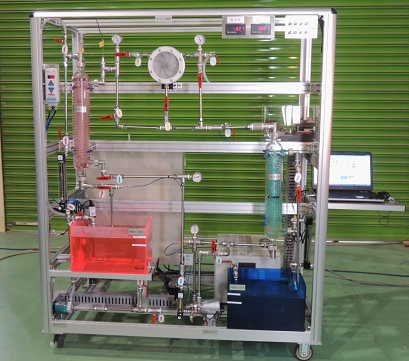 Our "Mini-OTEC" simulator has received favorable reviews as a tool for promotion and education of the power generation methods for hot spring and OTEC as the simulator recreates the conditions in the plant despite the compact size.
Please contact us for queries about customization to fit your needs and budget.